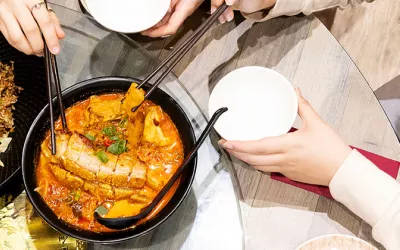 The Best Places to Find Delicious Asian Eats in the Valley
If you're hitting Fortitude Valley for lunch or dinner, there's one thing you need to remember – bring an empty stomach. From dumplings and barbecue pork buns to kung pao chicken and salt and pepper squid – in the Valley, you have your pick of the very best Asian cuisines on offer.
Find Variety and Flavour with Chinese Cuisine

The secret entrance is just one of the many charms of Cindy Chow's glamorous subterranean theatre and cocktail bar below Brunswick Street. Organise a group of friends who will appreciate eating in what looks like a 1920s Shanghai speakeasy bar. Have fun sharing the different dishes on the tapas menu, such as king prawn toast, freshly steamed dumplings, pork buns, cheeseburger spring rolls and Korean-fried cauliflower bites.
Discover another Valley icon in Super Bowl Chinese Restaurant that is frequented by both corporate lunchtime diners and weekend banquet seekers. Superbowl is known for its classic dishes like its kung po spicy chicken, shredded beef Peking style and sizzling Mongolian lamb.
Love bubble tea? Get your fix at Gong Cha at Valley Metro with its extensive menu of hot and cold drinks. You will be spoiled for choice with their menu of brewed iced teas, creative mix drinks like lemon tea and passionfruit green tea, health teas like matcha tea latte and lemon roasted melon tea with basil seeds, and their milk foam, milk teas and smoothies.
Looking for fast favourites? There are oodles of noodles to choose from at Biang Biang where staff serve hand-made, mouth-watering fresh noodles dishes. Or visit Fat Dumpling on Brunswick Street and pick from big or small plates and 17 different types of dumplings – it even offers sweets like peach spring rolls and sweet lava dumplings!
A Chinatown mall institution, Golden Palace Chinese Restaurant was one of the first restaurants to introduce Yum Cha to Brisbane. The spacious restaurant is adorned with antiquated décor and offers a large range of authentic Hong Kong cuisine.
Mix It Up With Asian Fusion Dining

In Warner Street, you'll come across the fun and relaxed bao restaurant, Nom Nom Bao – Burger + Beer serving up modern and simple Asian-inspired food like Penang chicken curry, Korean bulgogi beef, and lemongrass pork belly noodle salad bowl.
Celebrate early before Moon Festival  for lunch at Mr Vain Brisbane for  Yum Cha. 
Night owls should be sure to visit Ling Ling's Bar & Late Night Restaurant. Inspired by the hustle and bustle of South Asia, Ling Ling's has an abundance of contemporary pan-Asian street food, drinks, arcade games and more. Every Wednesday from 6pm enjoy $1 dumplings in two delicious flavours, and on Thursday nights overindulge with all-you-can-eat Korean fried chicken wings.
Mr. Mista, is an LA-inspired cocktail bar and Asian-inspired kitchen that caters for those who love an elegant dining experience, but also want to party 'til 3am. There will be nothing left on your plate when you order from the headliner meals like crispy-skinned chicken, black tea and sweet potato crisps, or the Singapore-style soft shell crab and Moreton Bay bugs in chilli ginger.
Feeding a variety of dietaries, including vegetarian, vegan and gluten-free, Tea Master Vegetarian Café is for you – it's in the name! Be sure to check out the latest additions to their menu – Dan Dan Noodles, Kimchi Fried Rice, Seaweed Salad and Preserved Olive Fried Rice.
Finally, if you are hankering for some delicious, hand-made Chinese dumplings or ramen, then head over to Gung Ho! Dumpling in Bakery Lane.
 
Keep It Tasty And Fresh With Vietnamese

If a Vietnamese meal takes your fancy there's a smorgasbord of delicious dining options, including Vietnam House on Wickham Street. There are two banquet menus to choose from and separate dinner and lunch menus. Try the fish and pork clay pot, and the red curry with lychee, onions, shallot and basil.
While another popular haunt can be found in The Vietnamese Restaurant. It's best to book ahead at this Valley mainstay as it's always bustling! Customers enjoy make-your-own rolls, steamboats and classic noodles.
Roll'd Vietnamese offers a great selection of fast and fresh-ingredient rice paper rolls, bowls, soups and salads. The seafood Pho noodle soup, lemongrass beef Goi salads, and roast pork and crackling Banh Mi baguette will have you drooling.
Discover Japanese Dishes Fit for Any Occasion
Head to Honto for a reimagined Japanese menu that celebrates local ingredients. The grilled menu includes yums like barbecue sweetcorn, yuzu butter shichimi, coral coast barramundi and grilled mushrooms.
Nonbei Sake Bar & BBQ offers a premium buffet at $85 a head and a standard buffet at $65 a head, as well as individual dishes like Tasmanian sea urchin sashimi and wagyu tataki truffle oil. Places like Wagaya  Japanese Restaurant Brisbane have something for everyone – diners can choose from deep-fried, grilled and a la carte hot pot dishes as well as salads, sushi, sashimi and rice noodle ramens.
Be entertained before you're satisfied, as the chef cooks in front of you at Oyama Japanese Restaurant. Choose from a teppanyaki, sushi and sashimi bar or opt for an a la carte men or group table banquets.
Looking for fast-casual Japanese meals? Check out Good Morning Sushi in McWhirters Retail, which will be sure to transport you to the neon streets of Shinjuku. Venture along Ann Street, to discover more hidden gems like Bird's Nest Yakitori. Watch as your mouth-watering skewered meals are cooked in front of you on an open flame or chose from their salads, sides and nibbles menu.
For something fast and fresh, visit Sushi Paradise at Valley Metro for a freshly made range of sushi and sashimi dishes, or Men ya go for mouth-watering and ever-reliable ramen.
Tantalise Your Tastebuds With Thai
For savoury-sweet-spicy Thai that'll send you straight to the streets of Bangkok or Koh Samui, visit the lunch specials at Full Moon Bar & Restaurant won't break the bank and the service is good too. Dishes with crisp vegetables and lots of flavour and served by a friendly team. Another authentic Thai street food option is Charoen Krung Thai restaurant on Brunswick Street Mall.
Still Haven't Found What You're Looking For? Discover Something Different…
Or, if Filipino food takes your fancy, indulge in trending Asian cuisine at Best Friends Kainan SA Valley, where even a large dish is under $13. Then, pick up a tasty takeaway bakery treat from Cafe de Manila in McWhirters Retail. 
Treat yourself to authentic, rustic flavours from India, with curries and snacks, vegetarian and street food menus as well as non-vegetarian dishes at Curry 'n' Cask Indian Bistro. A crowd favourite is the stuffed Paneer pizza and the boneless chicken pieces cooked in the chef's secret home-style spice mix.
Whatever you're craving, look no further than the Valley to taste all the flavours of Asia.
- January 2023