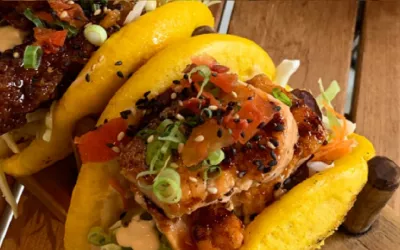 Nom Nom Bao - Burger and Beer
Bakery Lane heavyweight Nom Nom is here to take a bao, opening a bao bar in Warner Street, just a stone's throw from cult favourites Nom Nom Korean and Nom Nom Ramen & Sake.
These addictive Asian-inspired bites are the buns we want this summer with pork belly, fried chicken teriyaki and vegetarian options. Sweet tooths will salivate over dessert bao stuffed with ice cream! How bao that?
Website nomnombaoburger.com.au
Facebook Nom-Nom-Bao-Burger-and-Beer
Instagram @nomnombaoburger
Email contact@nomnombaoburger.com.au
Contact  07 3148 8781
Address  4/6 Warner St, Fortitude Valley QLD 4006 Australia