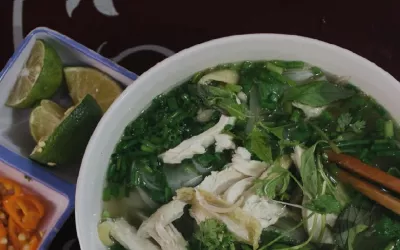 The Vietnamese Restaurant
The Vietnamese Restaurant is a family-owned institution on the Brisbane food scene, serving up great value Asian food since 1983. Many of today's patrons are children whose parents introduced them to this great value for money establishment over the decades.
The Vietnamese Restaurant has been continuously owned by the Le family, who moved to Adelaide from Vietnam in 1975. They moved to Queensland two years later and in 1983 Bich Le opened a tiny shop on Hardgrave Road in West End. By 1985 it had outgrown those premises, and the restaurant moved to its current location in Wickham Street, Fortitude Valley. A devastating fire in 1997 forced the closure of this much-loved café for seven months, during which time the first floor was turned into a function room.
Most of the ingredients that go into the great tasting traditional meals are sourced locally, including from the Le family's own farm. Bich Le still works in the kitchen, preparing food for the day's dishes. The restaurant can seat 80 people, while the upstairs function room can cater for 50 more. Bookings can be made by telephone only.
Website thevietnameserestaurant.com.au
Instagram @thevietnameserestaurant
Contact  07 3252 4112
Address  194 Wickham St, Fortitude Valley QLD 4006 Australia