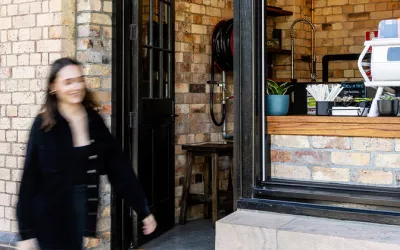 Discover What's New in the Valley
The Valley is a vibrant and ever-changing urban oasis where there is always something – or somewhere – new to discover.
From facelifts for favourites to fresh destinations for divine culinary experiences, we've compiled a list of the hottest new and revamped venues to check out this year.
Calling all sweet tooths! The Valley just became your go-to with its newest addition, Brooki Bakehouse, serving everything from cookie dough and cotton candy cakes to Biscoff and Black Forest cookies. See what sweet dreams are made of in this Parisian-inspired venue located in the revamped Stewart & Hemmant building.
Perched in a hideaway above Winn Lane, Stranded Bar is where rock-and-roll meets a classic dry martini. Owned and operated by the team behind The Zoo, this mezcal-heavy, rock and punk memorabilia-filled newcomer to The Valley feels like it's been here forever in the best possible way. Settle in and unwind with a mezcal and old-school favourites on vinyl.
Tucked away at the back of Bakery Lane in the Valley, NUG. General Store is an all-in-one shop for food, homewares and elevated essentials. The brainchild of one of Brisbane's best chefs, Sarah Baldwin, and Jarrod Applebee and Shane Phillips of boutique homewares store Finnley Home, NUG. General Store is a must-visit for home, food and entertaining lovers.
If you're after the freshest noodles in the Valley, this is the place for you! Owner Kieran makes all noodles from scratch, hand-pulling the dough before cooking to 'al dente', so you know you are getting the real deal. Be sure to check out their signature Bang Bang noodles, and highly-recommended Sichuan Dan Dan noodles, plus many more delicious options. You'll find them in Central Brunswick.
You don't have to be Eva Peron to show your love for Argentina, just pop into Evita and experience old-world South American charm worthy of a revolution in the heart of the Valley. Secreted away in an elegant, Heritage-listed building on St Paul's Terrace, Evita offers an Argentinian-inspired, relaxed dining concept featuring only the best Latin American flavours and a perfectly curated drinks list.
Atop Cloudland, overlooking Ann Street sits Valley Hops Brewing. The rooftop microbrewery celebrates the unique diversity of Fortitude Valley with its range of independent beers that represent the precinct's charm and character. You can grab a top-notch local brew, graze on wood-fired pizzas or sumptuous selections from the charcoal grill and even take a tour of the brewery to see where the magic happens.
Experience an authentic slice of Japan in the heart of Fortitude Valley with Kenjin, a newly opened restaurant and bar on Brunswick St. Leave the bustle behind with a décor heroing koi walls and cherry blossom trees that exude calm and elegance. Chef Dale Kettle incorporates the best Japanese, Asian and Australian culinary styles to produce a modern menu with serious wow-factor. Make a night of it and slip backstage after dinner to dance the night away at Kenjin After Dark.
Hey Chica! sure knows how to throw a Latin American street party. Pulsing music, a heaving dancefloor, fun cocktails, flirty staff and a festive menu of street food sees Hey Chica! bring pumping social house vibes to Brunswick Street. Raise your mojitos, daiquiris and pina coladas high as you refuel with the likes of tapas, tacos and Cubanos between salsa sets and DJ beat-drops.
This new wine store positioned perfectly next to Uh Oh Spaghetti-O emporium channels Tuscan charm with a cosy bar, alfresco laneway and extensive selection of Italian wine, beer, deli items and snacks. Grab a bottle – or two – on your way home or settle in and sample a glass of the 'Wine of the Week' while snacking on authentic Italian food from its moreish menu.
This Bakery Lane fave had a quiet refurb in late 2021 and has burst back open with a fresh new look. You know what hasn't changed, though? That's right, those delicious dumplings and drinks that have set tastebuds on fire and drawn diners from throughout the city. Gung Ho is a must-visit for anyone looking for traditional Chinese Sichuan dumplings, handmade with love and served with a smile.
- July 2022