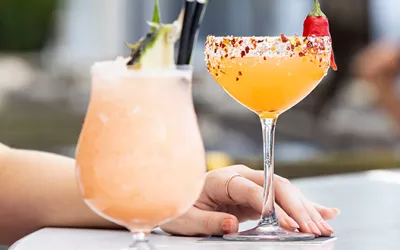 The Valley's best rooftop bars
When the sun is shining in Brisbane, there's no better place to be than outside. The sky's the limit when it comes to alfresco experiences in Fortitude Valley with plenty of rooftop bars for sunny days and balmy nights in Brisbane. Here's where to head for a rooftop rendezvous in The Valley.
Cielo ('sky' in Italian) is a sunny slice of Mediterranean heaven awash with Italian Riviera vibes in the Valley. The rooftop retreat within the La Costa precinct is open Thursday through to Sunday for a fab collab, while Sydney's award-winning Maybe Sammy bar is perfect for its seasonal cocktail menu. Drink in the coastal bites, drinks and good times at Cielo Rooftop.
Located atop The Constance Hotel, Dirty Sultan pairs modern Turkish eats and sweet treats with hip-hop beats and amazing bespoke cocktails for a swirling dervish of a time, outdoors. The Turkish-inspired custom cocktails are a definite highlight. Get among the striking street art, shisha lounge décor and inviting daybeds, and get ready to rock the casbah!
Hotel X's Iris Rooftop brings the best of the Med, from Barcelona to Beirut to Brisbane. The sky-high poolside bar and restaurant destination boasts sparkling alfresco cityscape vistas as you are transported to coastal Europe via inspired a la carte, banquet and beverage menus. It's a sumptuous spot to indulge in dreamy views and delicious food.
Open Friday's from 2pm and Saturday's from 5pm, the Rooftop Bar brings the boutique Limes Hotel ambience outdoors and above Constance Street. Brisbane's first rooftop bar is the ideal spot to watch the sunset while you chill outdoors with tasty bar snacks and a select beverage menu of wines, beers and classic cocktails.
MAYA Mexican on Ann Street is the Valley's north-of-the-border hotspot for eating, drinking and relaxing with live tunes, tropical cocktails and a regional Mexican menu. Channelling Baja California vibes by way of décor and cuisine, MAYA is the spot for serious margarita action and tasty eats. Step out of the lift and be transported to a breezy coastal Mexican retreat with panoramic views of the cityscape.
Open Friday and Saturday nights 'til late, Sky and Lotus pumps the R'n'B, hip-hop, EDM and house tunes from its rooftop position above the bustling Wickham Street and Brunswick Street Mall intersection in the heart of the Valley. Book a booth to be among the backlit neon and good times at this two-level club-lounge-bar with top-shelf views from the balcony of the Sky Bar.
Located at the former Elixir Rooftop Bar site on Ann Street, Su Casa is your stylish new home for a rooftop rendezvous. The decadent clubbing venue aims high to elevate the nightlife experience with VIP packages, private booths, state-of-the-art lights and laser and dance tunes for a top night out in the Valley.
What's better than an urban brewery? A rooftop craft brewery! Valley Hops Brewing has a prime position above Cloudland and brews craft beer with character. Take the lift up to discover the Valley's newest brewhouse, which takes the appeal of an open-air beer garden to the next level with outstanding views over the neighbourhood. Experience a great atmosphere plus signature beers, woodfired pizzas and chargrilled snacks.