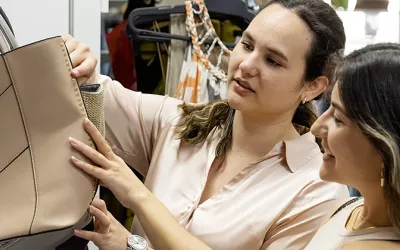 How to Spend Little but Live Big in the Valley
Travelling light or trying hard to pinch pennies? Living on a small budget doesn't mean you have to give up the good life, especially in Fortitude Valley.
We've found the Valley's best spots to help you get the most mileage out of your money, highlighting the best places to eat well, dress to feel good, live a little and travel comfortably while spending less.
Enjoy a Large Meal on a Small Dime
A meal deal is one of the easiest ways to eat well for less. Lucky for us, there are plenty of places to make a deal in the Valley.
One of Brisbane's oldest bars, The Osbourne Hotel, serves up your favourite pub classics all day, three days a week, for $16 or less. Kick back in a relaxed atmosphere every Wednesday with a $15 chicken parmy, a rump steak for $15 on a Thursday or over-indulge with a $16 pizza on Sunday.
Everyone's familiar with The Royal George's (RGs) famous beer garden but did you know they have all-day deals, seven days a week? Visit Fatboys Cafe for a cheap feed of your favourite pub meals. Our picks include $4 tacos on Monday, $10 steak or barra served with chips and salad on Tuesday or start the weekend early with a $16 burger, fries and beverage deal on Thursday.
Another famous Valley institution with cheap eats is Ric's Cafe Bar on Brunswick. From Monday through Friday, it has a revolving door of deals sure to tantalise your tastebuds and keep your pockets lined. Indulge in Mexican madness on Monday and Tuesday with live music, $4 tacos and $5 burritos enjoy a steak out on Wednesday and Friday or take a break from study with student night on Thursday.
Consciously Consume and Buy Nothing New
Buy nothing new means exactly what it says on the tin – simply swap, barter or opt to buy whatever you need second-hand. Why? It's the perfect way to save some extra cash and start to think consciously about your consumer footprint.
Look good for less thanks to the newly opened Vinnies Fortitude Valley. Located in the McWhirter's Building on 447 Wickham Street, it sells a range of second-hand donated goods including men's, women's and children's clothing and accessories. Plus, they also stock bric-a-brac, manchester, toys, books and media and accept good quality, undamaged and clean donations.
If you're in the market to spend a little more cash in the name of vintage and pre-loved goods, Monty's is a must-do. Established in 1856, Monty's has a diverse catalogue of goods with everything from fine jewellery and antiques to works of art from renowned artists to luxury watches and the latest tech. You can even sell or loan against items of value with traditional pawnbroking services.
If you haven't dabbled in thrifting before, Buy Nothing New month is the perfect time to start. Every October, you can choose to take the pledge to buy nothing new for a better future, bigger bank balance and healthier planet – discover more here.
Dance, Drink and Jive for Less
If live music, chilled vibes and cheap eats are your thing, head to Ric's Cafe Bar. Dance the night away in its colourful backyard bar with free live gigs on several nights a week. It also hosts a student night every Thursday with free entry and hot dogs plus live music, karaoke, backyard DJs and more.
Fortitude Valley is brimming with pubs and clubs serving up great music and good times. Discover more here. 
- October 2022