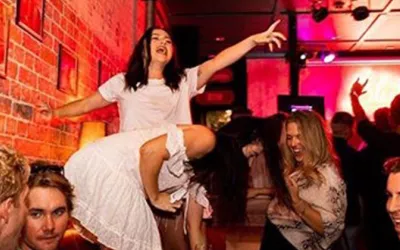 Where karaoke is king in the Valley
There's nothing like the feeling of taking to the stage, grasping the microphone and showing Beyoncé how Crazy in Love is supposed to be sung, backed by nothing more than a little liquid courage and a sea of strangers.
A night out isn't really complete until the whole party's rocked the stage at one of the Valley's key karaoke spots.
Tucked underneath Black Bear Lodge in Brunswick Street Mall, Blute's Bar is the pre-and-post music event place-to-be for a warm and welcoming respite. If you're feeling particularly inspired after seeing a live show, you can grab one of the 14 rotating tap beers or a bite to eat and belt out your own tunes with karaoke on offer five nights a week. And who knows, you might be lucky enough to score a duet with one of the roaming artists that frequent this hideaway-style haunt? 
Saturday night's alright at The Wickham, especially when the boisterous boys from Backstage Karaoke roll into town. The last Saturday of every month sees the Wickham's Corner Bar host Kinky Karaoke; an all-singing, all-dancing revue of show tunes, power ballads and pop hits starring you and your friends. The fun is free for everyone, starting at 8pm and ending when everyone's had a go at Wonderwall.  
Everyone's familiar with The RG's famous beer garden that lights up Brunswick Street Mall with live music every day of the week, but did you know that the real show goes down in the Corner Lounge on Wednesday nights? Turn hump-day into pump-it-day with karaoke from 8pm. Prove that you can out-perform any professional with a playbook of '80s and '90s hits. Lounge back and enjoy the show in the Corner Lounge's comfy, modern setting or hit the dance floor and show these amateurs the love that they deserve.
A revolutionary addition to Brisbane's party scene, The Palace Lounge offers a glittery way to play in the heart of Chinatown. Be blown away by the sophisticated style and belt out those boy band staples in one of 10 private rooms all featuring an entertainment system, lighting systems, disco ball and (most importantly) karaoke machine!  
Yo, ho, ho and a cocktail of rum! If that doesn't lubricate your vocal chords, perhaps an epic playlist will get your sea legs jigging towards the stage. Sing your favourite sea shanties - and pretty much anything else you'd like - at this pirate-inspired bar each Sunday night from 8pm.

— March 2020