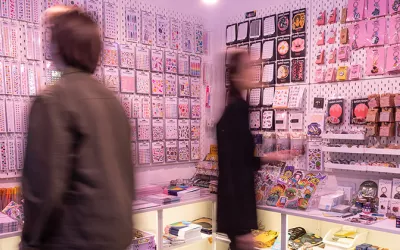 Tucked away behind Ann St's historic Shannon's building (now home to live music hub The Zoo), Winn Lane is The Valley's best kept open secret. Tumble down the rabbit hole and into a wonderland of fabulous food, fashion and fresh tunes, brought to you by an eclectic assortment of passionate local and independent businesses.
Peek through our looking glass into the wild wonder of Brisbane's most vibrant Laneway.
Food and Drink Favourites
Instantly memorable for their super-succulent burgers, sufficiently salted crunchy fries and house-made cherry cola, this Winn Lane staple is well-renowned for serving the best in fresh produce squeezed between pillowy plump buns. Swing by the iconic blue-and-white façade, and be sure to pair any pick from their menu with a crisp beer or soda.
No.5 Café is here to serve all your familiar morning fuels, as well as an eclectic range of unique flavour combinations to call your new favourites. Start your day with freshly-brewed coffee, pinch a granola or chia pudding pot for brekky on the run, or dine-in for brunch until 2pm daily (1pm on the weekend). Take it from us, the toasted sandwich specials are melt-in-your-mouth marvellous.
As the sun sets behind the rooftops of The Valley, retire to Winn Lane's cocktail canopy, where rock-and-roll meets a classic dry martini. Unwind with a Mezcal or savour every sip of your chosen tequila blend, as your old-school favourites spin on vinyl well into the evening. Stranded Bar's punk-rock heart beats palpably in this seductive, contemporary lounge perched above the laneway.
Glamorous Gifting
Refresh your wardrobe, home and stationery staples with Forge Forward's kaleidoscopic catalogue of products packing a hyper-pop punch. Servicing Winn Lane as a design store, hair salon and event space, Forge Forward invites you into a multi-functional creative experience - and we can't promise you'll ever want (or need) to leave. Have your hair cut in the middle of the space, while you sip on your free coffee (Saturday only) and explore your next big idea with founder (and incredibly versatile arts practitioner) Amy Crow. Make your one-way trip today.
Deck your stationery, home supplies, and everyday tech out in playful stickers and decorative Washi tapes, perfect also for scrapbookers seeking a sense of sparkle! Home of fun stick-on decals created by indie artists (as well as magnets, pins, keyrings and totes), Stash World is your Winn Lane wonder for all things adhesively cute and quickly quirky!
Style Superstars
Individuality is queen at Bespoke Hair, offering classic services tailored to your unique identity. Enjoy traditional cuts, styles, blow-waves and colour services from artistic director Andrew Taylor and the team, and leave informed with premium home hair care regimes and product information to help you reproduce and achieve desired looks at home. Bespoke believe in collaborative creativity, so feel free to ask for styling tips and tricks before you embrace the rest of your day with your new 'do!
Refresh your long-time 'look' at Dreamboat, specialists in capturing your individuality with every snip 'n' style. Colour, cut and create with owner EJ and the Dreamboat crew. This team are passionate challengers-of-the-norm, so you know you're in perfect hands to realise wild ideas. If you prefer something from the classics catalogue, their super skills can pull this off, too. However, you express yourself, trust these dreamboats to see you looking and living your best.
Recognised for its radical design approach to classical couture, House of Ezi's is renown for providing intricate tailoring creations for the modern bride. Founder Andrzej Pytel lends his background in architecture to construct made-to-measure bridal elegance with the philosophies of cutting edge fashion principles. House of Ezi's gowns are individually created, though the Winn Lane atelier houses over 150 designs which can be tried on and customised by private appointment.
A leader at the forefront of hair trends in Australia for 14 years and counting, Kiki Hair have since solidified their name in the hair care and extension industries, now proudly offering multiple methods of semi-permanent and permanent services. Visit these pros for premium hair lengthening and timeless styling dreams.
Born in Bali from an endless desire to explore bohemian beauty, LJC Designs have since washed ashore on Winn Lane, where that passion for global elegance and Balinese luxe inspires an adventure in fashion and accessories. Be captured by the versatile simplicity of linen pieces to enchant with a sense of island living, and embrace an expansive selection of women's, men's and kidswear to transport the whole family to a sublime world of wearable coastal wonder.
The sister cut 'n' styling hub to Forge Forward and brainchild of multi-talented creator Amy Crow, Lost Salon dares to dream your hypernaturally coloured wishes into sophisticated reality. Collaborate with Amy in developing a look that suits your style and self, then relax comfortably as she reimagines your hair for a brand-new you. Bookings essential!
Stay stylishly snug through winter's chilly snap with made-to-measure tailoring from Oscar Hunt. Specialising in bespoke garment alterations to see you looking your best for any occasion (with ultimate self-expression at the heart of what they do), Oscar Hunt also offer an extensive range of all-year wardrobe staples - including jackets and overcoats to keep you pleasantly winter-warm!
Beautiful, bouncy hair and bright 'n' sunny vibes… what more could you wish for? The Landing Co. are Winn Lane's magical creators of luscious locks enchanted with high-shine finish and loveable longevity. Gradient colouring is a particular speciality, and dream team Monica and Sharn simply can't pass up a perfect curl. The Landing Co. are also home to vegan-friendly brow and lash styling service The Glow Upstairs… so consider that third wish granted.
Arts Experiences
If you think you've got the groove to spin tunes as a professional mix-master, keep your ear to Winn's cobble-stoned laneway. QUIVR are a live-streaming studio at the heart of the precinct, offering DJ classes and extended courses. Select from one-on-one sessions or intimate group workshops to advance your skills to the next level. Courses are offered all-year round, so enquire directly.
A Valley staple accessible through the moodiest depths of Winn Lane, The Zoo was built from and for Brisbane's live music scene, providing a much-required platform for local musicians. Playing host now also to interstate and international acts, The Zoo is one of Brisbane's oldest and most beloved venues, and has been independently owned and operated by women for the past 29 years. On any given weeknight, enter through the hand-painted double-doors into the lofty interior of your new post-work drinks and live entertainment favourite.
- July 2022