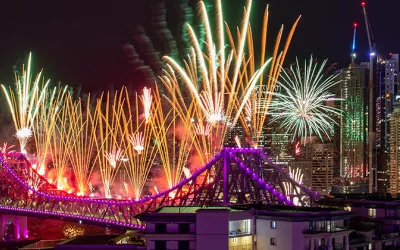 Best Vantage Points for Riverfire
Brisbane's Riverfire is our once-every-September, bright lights, dazzling night of nights that hugs our whole fabulous city together. This year, family, friends, colleagues and strangers unite as we tilt our heads up to the skies and hold our breath for the first explosion of colour to rain down on our city.
This year's pyrotechnic extravaganza will be held on Saturday 3 September, and some of the best vantage spots are found amongst the Valley's best rooftop bars. We've done all the hard work scouting out the best spots to watch Brisbane Riverfire this year, so start putting your dazzling outfit together and book your night in the Valley.
You'll already be up in the sky if you're sitting at Hotel X's Iris Rooftop Bar for Riverfire, and it won't just be the dazzling view that takes your breath away. Catch the elevator to a sky-high paradise filled with wet-look mermaids, oil-lacquered bodybuilders, Flashdance femme fatales, fake tattoo parlours and so much more with the 80s Extravaganza event held by Iris Rooftop. Find out more here.
If you are in the mood for fabulous cocktails curated by some of the best cocktail minds in the world, then this is your Riverfire rooftop bar. Bringing a little bit of Italy to the Valley, get cosy with their cocktails, Burrata or Bruschetta and soak up the views across The Valley. The brightly coloured booth seating and stunning views are guaranteed to make for the perfect snap!
Enjoy the best of Brisbane and this year's Riverfire, with a Mexican twist at MAYA. Inspired by a trip to Guadalajara, MAYA was born from a love of tequila and deep appreciation for regional Mexican cuisine. With stunning views from the lush rooftop courtyard, delicious share plates and a cocktail menu to match, MAYA will have you planning your next visit before the fireworks have even finished!
- August 2022