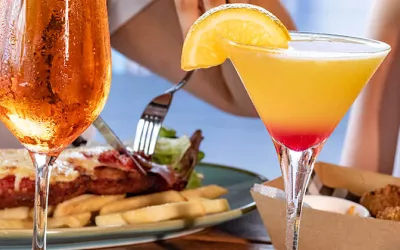 The Valley's Must-Visit Icons
The Valley has long been known as one of Brisbane's most vibrant and exciting lifestyle hubs, well known for its restaurants, nightclubs, bars and entertainment venues. Among the hustle and bustle and nestled between the up-and-coming hot spots, there's an age-old list of dependable institutions you can always count on. Whether you're searching for a good time, a delicious meal or an out-of-the-ordinary experience, this list is for you!
Hungry for authentic Chinese and Malaysian food? Introduce yourself to Superbowl Chinese Restaurant, one of the Valley's longstanding favourites. If you're chasing a recommendation or two, we can't help but suggest the roast duck, laksa or curry noodle soup. Trust us, it'll light up your life (without breaking the budget). Find the restaurant at 185 Wickham Street.
Across the road and a few doors up you'll find The Vietnamese Restaurant, a family-owned venue that's served up great value Asian food since 1983. Though it's not much of a looker from the outside, this hidden gem is unbelievably affordable and leaves you feeling nothing but satisfied. Take advantage of its BYO licence and bring a bottle of your favourite wine to 194 Wickham Street.
The Zoo is one of Brisbane's oldest and most loved live music venues, nurturing our scene and playing host to headline acts and local legends for the past 30 years (and counting). If you're in the market to see a show with a side of beers, billiards and Zoopreme pizza, The Zoo is a must-do. Find it in the heart of the Valley, on the first floor of the Shannon's building on Ann Street, or check out what's on.
Looking to shake things up? Fill your calendar with original and innovative performances at the Judith Wright Arts Centre (JWAC). Named after Judith Wright, the celebrated Australian poet and activist, JWAC offers an ever-exciting roster of vibrant and contemporary events from cabaret, circus, dance and music through to spoken word and multi-disciplinary arts. See the program of upcoming events.  
If live music, chilled vibes and cheap eats are your thing, you might be a Ric's kid. One of the most iconic music venues in Brisbane, Ric's Cafe Bar has provided many of the city's up-and-coming musical talent a stage to play on. Dance the night away in its colourful backyard bar or enjoy a large meal on a small dime with the endless food and live music deals.
Built in 1885, The Wickham is another heritage-listed, three-level location that offers it all – from cafe fare by day to great cocktails and upmarket bar food by night. For now, The Wickham is getting a major makeover with its Studio, Wickham Bar and Beer Garden all closed for renovations. In the meantime, the Gaming Room remains open. The Wickham is a safe space for the LGBTQI+ community and is located at 308 Wickham Street.
- September 2022