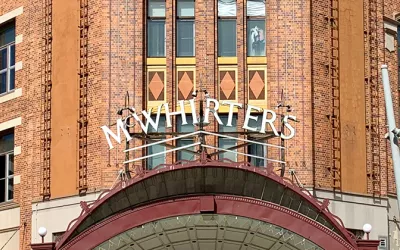 Standing sentry at the corner of Wickham Street and the Brunswick Street Mall for more than a century, McWhirters Retail has everything you need in one place. From international grocery stores to beauty services, eateries and one-stop shops, this heritage-listed building hosts more than 30 retailers.
The team at McWhirters Farmers Market pride themselves on putting the highest quality fruit and veg onto their shelves for your home-cooked meals. Once you've got the veg sorted, it's time for the meat. Ismail's Discount Halal Meats is a certified Halal butcher with a strong commitment to 'meating' your needs. Shop scrumptious Indian spices, sweets and cooking staples at Geeta Enterprises Indian Grocers and then pop into Best Friends Filipino Foods for all your Filipino cuisine needs. Whether you're after an authentic snack or sourcing ingredients to make a meal from scratch, these specialist grocers will have your pantry, fridge and freezer sorted.
If you're after one-off wardrobe or specialty items, you're bound to score at McWhirters. Sassy Collection Valley is a great place to start looking for that statement piece with sizes up to 26 and items for men, women and kids. If you're after a bargain, Red Cross has a range of new and pre-loved clothing, homewares and accessories. Buy your basics from Dollars and Sense where you'll find everything from clothing, beauty essentials and gifts to kitchenware, stationery and outdoor goods. Visit the experts at NTP Jewellery for classic fine jewellery pieces as well as watch and jewellery repairs. 
With an onsite food court plus a variety of dining venues, McWhirters has you sorted for breakfast, lunch, coffee and cake, plus takeaway meals. Inside the building, for Filipino faves head to Best Friends – Kainan Sa Valley for rotating meals including adobo dishes plus desserts such as the classic halo halo, plus there's Cafe de Manila for all your Filipino bakery needs – sweet and savoury. For cake and coffee, eat in or take away the delicate cakes, tarts and savoury pastries at Cheung's Cakes & Café. If you're after a naughty treat, try a cheeky waffle!
There's also two Indian eateries – visit Balti Biryani for authentic spicy rice dishes and Hyderabad Flavours for South Indian curries and Indo-Chinese cuisines. For when you just want a satisfying sandwich, sub or wrap made fresh to order, Fresh to Go attracts a loyal local lunchtime clientele. For pan-Asian cuisine served hot and ready to go, choose from the selection at Asian 88. Good Morning Sushi is another lunch fave, serving sushi, hot rice dishes, noodle soups and more. 
Outside the McWhirters building facing the Brunswick Street Mall, get your fast food fix at  5Dogs Fortitude Valley for meat and vegan hotdogs, burgers, hot rolls, parmys and poutine fries. For fresh coffee, matcha lattes and sandwiches to go, visit tiny Steph's Cafe.  New York Slice Pizzeria slings its signature pizzas on Friday and Saturday nights from a hole-in-the-wall kiosk at the bottom of the mall, or hit up Shah Cafe Pizza-Kebab for tasty pizzas and kebabs.  The expansive Chareon Krung Thai Street Food serves up Thai and Laotian specialties for sit-down or takeaway meals.
From nails to hairstyling, grooming and massage, McWhirters has an array of beauty and salon services on site. Shehnaz Beauty Salon is your one-stop shop for all your top-to-toe needs, including eyebrow threading, eyelash perming, henna tattoos, facials, hairstyling and waxing. For natural, gel and acrylic nails with polish, as well as eyelash extensions and body waxing, see the mother-daughter duo at Miss Mekong Nails & Beauty. For some soothing R&R, book into Tiens Massage. Hair in need of attention? Visit the unisex stylists at L. City Hair for quick cuts, or guys can book into Blokes Creative Cutting for Men. 
So, for all your shopping needs, McWhirters Retail has you covered!

– Updated April 2021