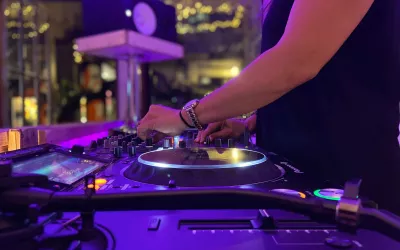 Festive gifting - Valley style
Bring on the celebrations and share the gift of an experience in our favourite urban oasis.  
From art lovers to foodies, beauty queens to aspiring musicians - there's something unique and special for everyone in the Valley so you'll never again be accused of boring gifting!  
Grab a voucher  and treat your loved ones with an age-old wine and dine experience at this refurbished warehouse dedicated to wood-fired fare. Get cosy in the rustic interior with a kitchen that boasts two charcoal pits – one dedicated to seafood and starters, another reserved for meat – and a woodfired oven. You can't go wrong with a delicious lunch or dinner!  
Gift-hunting for the music lover in your life? Searching for the perfect present for your sibling who's out at gigs every weekend? Check out The Fortitude Music Hall's upcoming event listings to gift the perfect experience this Christmas.  
QUIVR in Fortitude Valley is a community live streaming space for aspiring musicians. Whether you're a maestro or not, there's no judgement here! There are beginner DJ production and editing courses, private DJ lessons or you can grab a gift voucher for a booth session to practice or livestream music. A totally unique gift that will blow away a music lover at any age. 
This is home to some outstanding installations by renowned artists around the world and it's not one to miss. Spend the day with your loved ones amongst seriously unique exhibitions that push the boundary of modern art. You can also shop the online store for a unique gift for the art lover in your life.  
Named after the celebrated poet, the Judith Wright Arts Centre is an institution of cabaret, circus, dance, music and theatre. It is where culture meets history; the perfect amalgamation that depicts the vibrance of the Valley. Experience Brisbane's diversity through some extraordinary contemporary performances – book a ticket for someone special this December or January! 
Send cookies this Christmas! Brooki Bakehouse is doing a special Christmas Cookie Box with Choc Chip, Red Velvet, Snickerdoodle, White Choc Oreo, Choc Mint, Ferrero Rocher flavours! Yum!