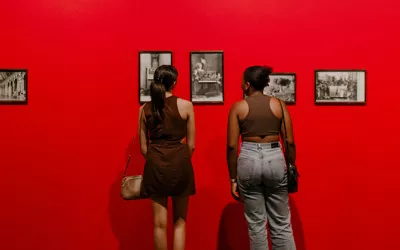 Do a gallery trail in the Valley
Join the culture club – meet your mates for coffee and then make your way around the Valley's independent art spaces and public galleries, which are open for viewing. Some exhibition viewings are either available for walk-ins or by appointment, so make sure you check the details to book ahead and support local artists and spaces.
This gorgeous non-profit creative program champions artists living with challenges of adversity, homelessness, mental illness, social isolation and disabilities. Located on Brunswick Street, the gallery space is open from Monday to Friday from 10am-4pm to view the latest artwork collections, plus you can book online workshops to develop skills from photography to painting.
The Institute of Modern Art (IMA) is a free public art gallery currently housed within the Judith Wright Arts Centre on Brunswick Street and includes the IMA Belltower. With an annual line-up of exhibitions and programs featuring Queensland, Australian and international artists, IMA is a leading independent arts space for contemporary expression. Visit  Tuesday to Saturday from 10am-5pm to view the latest shows.
Celebrating 25 years in 2020, Jan Murphy Gallery has showcased and sold contemporary works by local and Australian artists. Located in the heart of the Valley with large gallery windows flanking Brunswick Street, the rotating exhibitions of established and emerging artists never fail to capture the imagination of passers-by and art lovers alike. Open Tuesday to Saturday from 10am- 5pm, or by appointment.
Specialising in contemporary and Indigenous artworks, Mitchell Fine Art occupies an expansive space on Arthur Street. It's the perfect backdrop to showcase rotating exhibitions that alternate between Indigenous artists and contemporary Australian art. The gallery is open Monday to Friday from 10am-5.30pm and Saturdays from 10am- 5pm, with plenty of space to move around and view the artworks at your leisure.
Another one of the creative tenants within Judith Wright Arts Centre (JWAC), Outer Space, curates a program of exhibitions, events and programs in collaboration with contemporary artists. Look out for upcoming exhibitions in the JWAC gallery space, open Wednesday to Saturday from 10am- 5pm when shows are staged.

 
One of Australia's leading commercial art galleries, Philip Bacon Galleries, has a renowned stockroom of 19th- and 20th century, as well as contemporary Australian art. It  has exhibited a wealth of established and emerging artists since opening in 1974. Philip Bacon Galleries is open Tuesday to Saturday from 10am-5pm.
The POP Gallery opened in 2011 as a research-based contemporary arts space, showcasing the work of Queensland College of Art, Griffith University post-graduate researchers on Brunswick Street. Recent works have included tactile works, glass sculpture and visual arts. Open Tuesday to Saturday from 10am- 4pm.
The Edwina Corlette Gallery opened in 2008 and is committed to the long-term promotion of a select group of contemporary artists from Australia and the Asia Pacific region, whose practices employ a range of mediums including painting, sculpture and installation art. The gallery offers a diverse, annual curatorial program of solo and group exhibitions, artist talks, collaborations and offsite projects including participation in art fairs and is recognised as one of Australia's leading contemporary art spaces showcasing emerging and mid-career artists.
Unleash your inner artist
Prefer to DIY? Crafty types can get arty in the Valley with a class.
Visit Studio on Brunswick for craft workshops from wreath-making to collage creation and clay play, as well as paint and sip sessions.
For arty supplies, stock up at Oxlades Paint & Art Centre on Wickham Street. The art mega-store has a comprehensive range of quality materials and mediums for artists of all stripes. Whether you're into drawing or painting, sculpting or airbrushing, you'll find everything you need for your home studio.
Find out what's showing now in the Valley's art spaces and galleries via our Events Guide.