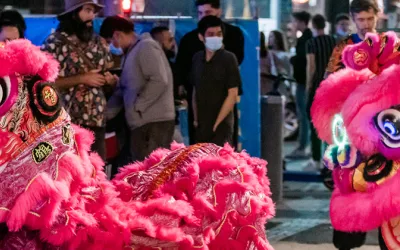 Celebrate the Moon Festival in the Valley
With the moon hitting its fullest on Friday 29 September this year, that can only mean one thing – the annual Moon Festival is upon us! This 3000-year-old tradition is a Chinese celebration with a simple premise – bringing loved ones together to feast on good food, drinks and of course, mooncakes.
From 5pm on Saturday 30 September, come and experience Moon Festival in the heart of Fortitude Valley. With unique flavours pouring out of our top Asian restaurants alongside the roving entertainment that includes lion dances throughout the Malls, we can't think of a better way to celebrate!
Here's six ways you can celebrate The Moon Festival in The Valley next month.
Reunite with loved ones over a meal or two
The Moon Festival is based on the legend of the Moon goddess, Chang'e, in Chinese mythology and symbolises families getting together. If it's been a while since your loved ones have enjoyed a night on the town, the Moon Festival in the Valley is the perfect place to reconnect. Before the Moon Festival celebrations, enjoy a lunch yum cha at Mr Vain Brisbane. Enjoy some happy dumplings at Fat Dumpling. Mr Mista serves a Chinese-inspired banquet menu designed by its chef exclusively for this special celebration.  
You can also book a table at family favourite Superbowl Chinese Restaurant selling all your favourite treats, or see your meal prepared right in front of you at Bird's Nest Restaurant. If you're looking for something to take you further into the night, celebrate the Moon Festival into the wee hours at Ling Ling's.   
You're spoiled for choice with Asian dining spots in the Valley. Check out some of our favourite restaurants.
Head to a rooftop bar to admire the Full Moon
Traditionally, families celebrating the Moon Festival will gather in the evening to appreciate the moon when it is at its fullest. In Chinese culture, roundness symbolises completeness and togetherness. After you enjoy your Valley dinner, why not book into one of the Valley's rooftop bars and bask in the light of the full moon as you savour your drink? The Valley is brimming with rooftop bars, so there is no bad view of this year's moon. Check out the best spots.
Light a lantern for good fortune.  
There will be plenty of light as you walk around The Valley. Not only from the light of the fabulous full moon, but you'll also notice many restaurants symbolically lighting your path to prosperity and good fortune with their paper lantern displays. Pick up a paper lantern of your own from Dollars and Sense for your walk around the Valley and take the good luck home with you.
Enjoy traditional moon festival street entertainment
Street entertainment including colourful roving lion and cultural dances, theatrical performers, live music and other traditional celebrations like Japanese drumming, will start in The Valley at 5pm and finish around 7.30pm. The best places to see them are at the Brunswick Street Mall, the Chinatown Mall and Bakery Lane. The full program is coming soon and you can find out more here.
Share a slice of mooncake
No Moon Festival celebration is complete without a traditional, sweet mooncake. Pop into Chinatown's Yuen's Market, Sunlit Asian Supermarket or Cheung's Cakes and Cafe where you'll find a selection of mooncakes to try.
Try a traditional Chinese tea
Traditionally, mooncakes have a rich, thick filling, thin crust, are shared in small wedges and savoured with a cup of tea. Sunlit Asian Supermarket in Valley Metro has a wide variety of traditional Chinese teas to choose from. If you want to enjoy tea while you are out, you can book into Tea Masters Vegetarian Cafe Restaurant on 115 Wickham Street and unwind with a pot of authentic Taiwanese high mountain tea. Just down the road, Gong Cha at 230 Brunswick Street also serves bubble tea and traditional tea.
- September 2023