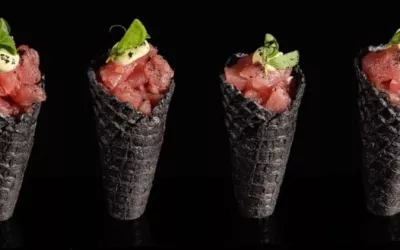 Welcome to hôntô.
Located in Alden Street, Fortitude Valley, we are open Monday-Sunday, 5PM till late. You'll find us through the black door next to the Lounge Lovers loading dock.
Our menu reimagines Japanese cooking with contemporary nuance and local ingredients. On the menu you will find our interpretation of classic Japanese dishes plus some new favourites to boot. Best enjoyed shared so bring friends and family to enjoy!
Good food and good booze go very much in hand. So, amongst the usual suspects of wine, beer and cocktails you'll find a bunch of rare and unusual Japanese Whiskey and Sake. Our attentive team is on hand to make some magical matches with your menu choices.
Our dark, moody space is tucked away in the gritty end of the Valley. It is made up of a little bar, called ÔÔ, alongside a raw dining bar and main dining room. Expect to sit alongside friends new and old.
Website https://honto.com.au/
Facebook Honto
Instagram @honto.restaurant
General Enquiries email seatme@honto.com.au
Contact  07 3193 7392
Address  Alden Street 4006 Brisbane, Queensland, Australia