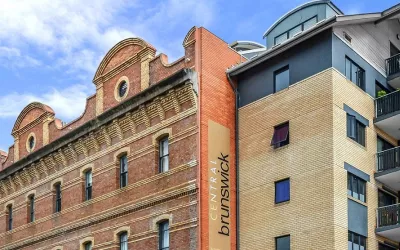 Central Brunswick Apartment Hotel
If you are in Brisbane for work and need a convenient location or looking for weekend accommodation in The Valley, Central Brunswick Apartment Hotel can offer something to suit your requirements.
Located in Fortitude Valley, Brisbane's entertainment destination, you will find a mixture of eclectic cafes, restaurants, night clubs, pubs and China Town within 500 metres of our door step.
At Central Brunswick Apartment Hotel we offer studio or  1 bedroom apartments. Our 1 bedroom apartments are either a loft style with a mezzanine bedroom and bathroom. Or a conventional one bedroom layout with the living area separate from the bedroom. Our studio apartments are spacious and offer guests all the conveniences needed for a short stay.
Each apartment at Central Brunswick Apartment Hotel is owned individually and furnished to the individual taste of the apartment owner. While some differences may be noticed from apartment to apartment our guests can be assured of our commitment to offering comfort and cleanliness in each apartment.
Website centralbrunswickhotel.com.au
Facebook centralbrunswickhotel
Email info@centralbrunswickhotel.com.au
Contact  07 3852 1411
Address  455 Brunswick Street, Fortitude Valley QLD 4006 Australia