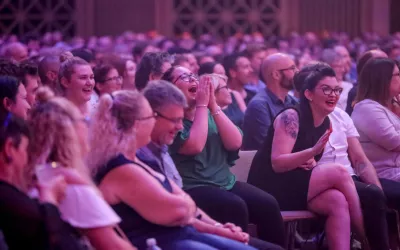 Three ways to laugh big in the Valley
The five-week long laugh extravaganza is here togive your funny bones some exercise across Valley Venues including the Fortitude Valley Music Hall

From 28 April - 28 May 2023, the riot is back with the most hilarious international comedians taking the stage right here in Brisbane. Come for the giggles, stay for the LOLs. 
More information here. 
Improvised, sketched or stand-up comedy, you are spoilt for choice at the Big Fork. Known as 'Brisbane's home of improv and comedy', enjoy some laughs and entertainment with some your mates at their renowned Wednesday night line-up. Aspiring comedian? You can also take a class to teach you all the skills for improvisation as well as sketch and comedy writing classes.  
Need a laugh to kick off the weekend early? You've come to the right place! Thursday night at Greasers is strictly for laughs only and it's fast becoming Brisbane's comedy headquarters. Grab some food and drinks and settle in to cheer on some of the country's favourite funny acts.