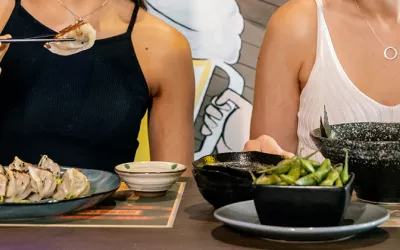 Where To Find the Valley's Best Comfort Food This Winter
Baby, it's cold outside!
But step out of the winter wind and frosty chill into one of The Valley's warm and inviting cafes, bars or restaurants for cosy eats and treats. Thaw out with hearty dishes, spicy snacks and winter cocktail menus guaranteed to light a fire in your belly.
Warm yourself from the inside out with these Valley winter faves.
Late nights, live music and lip-smacking cocktails – Black Bear Lodge has hit on a winning winter formula. Kick back in the intimate venue overlooking Brunswick Street Mall and warm your cockles with a mulled wine or selection from the whisky menu before hitting the dancefloor to shimmy the cold away. Check their gig line-up on Facebook.
Seek shelter from the cold in Gung Ho! Dumpling's cosy courtyard down the character-filled Bakery Lane. Take the edge off the chill with a serve of handmade dumplings then soak up the heat with a steaming bowl of Tonkotsu Ramen. Book online or wander down the laneway for walk-in dining.
There's always room for dessert – especially if said dessert is a serving of freshly baked churros, generously dusted in cinnamon and sugar and served with a pot of Hey Chica's signature aerated chocolate and caramel sauce. Pair your sweet treat with some sizzling salsa music and temperatures are sure to rise! Book a table online.
The Osbourne has sated the appetite of diners since 1864, making it one of the oldest Valley bars. It does a roaring trade in popular pub fare but if you're looking to level up your winter feasting, order from its rotating Weekly Winter Warmers menu with dishes including Nepalese Beef Curry or Seafood Marinara Risotto. Jump online or slide into their DMs to book a table.
Slip inside this hidden bar to experience a warm welcome and old-world charm. Savile Row's unique cocktail selection is refreshed quarterly to mirror the seasons. Ask one of the talented bartenders to whip up a Spicy Bunz – a delightful fusion of hot cross bun and an Old Fashioned – with Slane Irish Whiskey, Manzanilla, pimento caramel and tonka bean. Book online or breeze through the orange door at 667 Ann St.
 
Where else to escape winter than in a restaurant with a passion for open fires and hot coals? Sure, they're all in the kitchen, hard at work producing mouth-watering meals but all is forgiven when the food is as delectable as Evita's Guisado De Carne Tierna – before you reach for Google Translate, that's beef stew with carrots and potatoes. Hit their website to book a table or enquire about a cosy private dining experience.
Is there anything better than enjoying the winter sunshine and good times in The Wickham's Garden Bar? Of course there is – adding one of The Wickham's signature Mega Chicken Parmis to the mix. The crisp chicken schnitzel is topped with ham, cheese and Napoli sauce and accompanied by chips and salad. PSA: there's also a Chicken Parmi lunch special that'll set you back less than $20. Book your spot in the sun online.
Spice up your life with Oche's Mexican felafels with spiced beetroot dip. They're gluten-free, vegan, packed with flavour and are sure to give you the edge with your post-dinner darts match. Oche's winter menu is full of scrumptious share plates and pizzas and if you're one of those people that can eat ice cream year-round, be sure to order a cone of Smoked Jaffa ice cream. Book a spot online.
Is there anything more comforting than carb-loading? Take it low and slow at Uh Oh Spaghetti-O with a snuggly winter menu that includes Spaghetti Bolognese with slow-cooked pork mince, Pappardelle with Duck Ragu and Gnocchi with Sausage in a creamy truffle sauce. Add a generous dusting of parmesan cheese, order a glass of red wine and chase those winter blues away. Book a table online for date night or a catch up with mates.
hôntô's menu is designed to be mixed, matched and shared among dining companions but honestly, when the Mushroom Udon Noodles with Japanese XO and crispy shallots hit your tastebuds, you'll want to keep it all to yourself. Book a table on the website and whet your appetite for a dining experience that is a delicate fusion of Japanese and Australian cuisine.
- July 2022