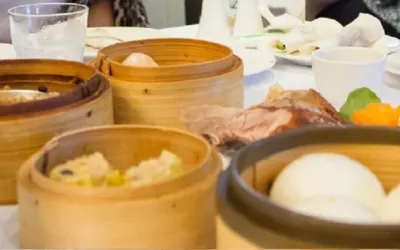 The Valley's best dumplings
Ah dumplings, those delicious little parcels we just can't get enough of. Lucky for us, dumpling dens are popping up all over the Valley where you can dunk, dip and dive into dumpling heaven. We dare you to read our list of the Valley's best dumplings without drooling everywhere!
Fat Dumpling
Poached, steamed or fried, you have to try them all and Fat Dumpling is cooking up all sorts of mouth-watering creations. Some of the tasty flavour combos include poached chicken and asparagus, steamed pork and Chinese cabbage and pan-fried vegetarian dumplings. You'll find them located at 368 Brunswick Street.
Nonbei Sake Bar and BBQ
Nestled amongst shopfronts of the bustling Ann Street, Nonbei Sake Bar and BBQ is another notable member of the Asian restaurants that call the Valley home. Nonbei is a Japanese Izakaya Yakiniku restaurant, meaning traditional Japanese fare is their specialty. If you're set on dumplings, you can't go wrong with the Nonbei Gyoza- pan-fried pork dumplings.
Ling Lings 
Late-night dumpling cravings? Ling Ling's has you covered with their contemporary pan-Asian street food menu serving up dishes Tuesday to Sunday from 5:30pm until late. Located at 351 Brunswick Street, chow down on pork and chive wontons, prawn and ginger dumplings, veggie dumplings, fluffy bao buns, shallot pancake and heaps more.
Tatsu Ramen Gyoza Bar
Introduce yourself to Brisbane's latest street-food obsession: Tatsu Ramen and Gyoza Bar.  Situated behind tinted glass on Chinatown Mall, our menu of traditional Asian options, including sashimi, karaage, wagyu beef and edamame, you'll find it tricky to pick just one! Don't miss the famous food-on-a-stick selections – the teriyaki chicken is to-die-for!  
8848 Momo House
A traditional serving of meat-filled dumplings, brimming with delicate and flavourful juices served with traditional chutney. When it comes to simple, delicious, one-meal dishes of Nepal, you can't beat the famous MOMOS.
Gung Ho! Dumpling
Located in the historic Bakery Lane with cosy courtyard vibes, it's time for some delicious hand-made Chinese dumplings in flavours like chicken and prawn, prawn and bamboo shoot and pork cabbage, with more out-of-the-ordinary flavours like vegan tofu, quinoa and sweet potato and lamb coriander also on the menu.
Golden Palace Chinese Restaurant
A Chinatown mall institution, Golden Palace was one of the first restaurants to introduce Yum Cha to Brisbane. The spacious restaurant is adorned with antiquated décor and offers a large range of authentic Hong Kong cuisine. If you're in the mood for a boogie or want to channel your inner Beyoncé, the venue also has private rooms fitted with a dance floor and karaoke systems.
- December 2021