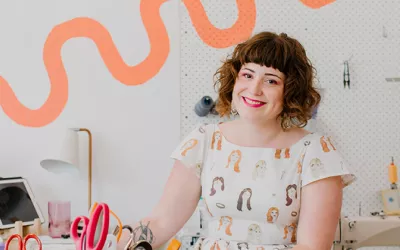 Female-owned businesses to support in the Valley
Who runs the world? Grrrls.
This International Women's Day on Tuesday 8 March, we're getting behind the Valley's female-owned businesses to recognise the amazing girl bosses and women doing things their way. From design-driven dames to music mavens and boss bakers to movers and [cocktail] shakers, here's some of our fave female-owned businesses to support in the Valley.
Amy Crow is a creative force to be reckoned with. This polymath owns Forge Forward, a design-driven space-slash-hairstyling studio-slash-workshop venue that celebrates and connects local creatives of all stripes. Head here for crafty workshops and networking events and to shop amazing art, clothing and accessories from around the globe, including the in-house FUTURE = FEMALE range.
Taking over as owner of iconic Valley venue The Zoo, one of Australia's longest-running live music venues in 2016, Pixie Weyand was also named Telstra Queensland Young Business Woman of the Year that same year. Now she has joined forces with husband-and-wife team Luke 'Boo' Johnston and Cat Clarke as co-owners of The Zoo. As The Zoo's director, Pixie wears many hats, including venue booker and manager, and is a well-known advocate in the local and independent music scene. 
Hollee Hibberson is the founder and creative director of QUIVR, an independent live-streaming studio and DJ school in Winn Lane, and a champion of Brisbane's underground EDM scene. A DJ and dance music lover herself, Hollee has created a safe, inclusive and accessible space and a virtual platform for bedroom DJs and pro producers alike as well as connections in the community.
As the owner of Finney Isles cocktail lounge, Tuyen Huynh is shaking things up with seasonal menus that showcase innovative methods and delicious ingredients for visually stunning cocktail confections. This female boss can be found behind the bar and in front of the impressive array of liquors and spirits as the mixmaster of her domain. 
Kathryn Walsh set up Practice Studio as a combined workroom and retail space that's designed to bridge the gap between maker and consumer. With an emphasis on sustainable style, as well as stocking emerging designers with an ethical ethos, Kat offers in-store alterations and garment-mending services and supports the maker network in the Valley.
A silversmith by trade, Jess Blak's eponymous store and label is a showcase for her contemporary handcrafted jewellery hewn in traditional methods and ethical practices. Her organic style is inspired by nature and the environment and the label counts other unconventional fierce females such as rapper Brooke Candy and singer-songwriter Zola Jesus as fans.
Crafty creative Alice Veivers is a one-woman enterprise that spans her handmade vintage-inspired label Alice Nightingale, weekly social sewing classes, craft workshops and online craft swap meets. She even finds the time to coordinate the Valley Laneway Market. We love her style and the sunny vibes and rainbow colours of her California Lane shop.
As part of a family-owned business of jewellers and designers with more than 40 years' combined experience, Sarina Cheney knows the true value of precious metals and gemstones. The in-house valuer and gemmologist is a rarity in the Valley, bringing a multi-faceted approach to the appraisal of modern and antique jewellery and a keen eye for fine gems. 
The Little Red Company has enjoyed a distinguished career since its inception in 2012. Now based in the Valley, co-director Naomi Price helms this award-winning, audience-endearing production house and as one of Australia's leading cabaret and music theatre performers, she's a multi-award-winning dynamo in her own right.
- March 2022