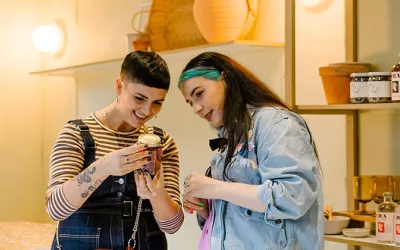 A Day Out in the Valley With Alice Nightingale
Alice Veivers is the hands-on textile creator behind adored Fortitude Valley fashion retailer, Alice Nightingale. After completing her diploma of fashion design and technology in 2009, Alice set out with the goal to create quality clothing in small quantities – and that she has.
For the past four years, Alice has designed, produced, and dressed Valley visitors and residents from her industrial-chic retail space in California Lane. Before Alice closed the doors on her physical store, we stopped by to discover what she loves most about Fortitude Valley.
Plan your next visit with these recommendations!
Tell us a bit about yourself.
Hi! I'm Alice, I run a Brisbane made fashion label called Alice Nightingale. I started my label in 2009, making cute vintage inspired clothing and selling at markets around the Gold Coast and Brisbane. That's how I came across the Valley Laneway Markets in Winn Lane in 2010. I opened my little shop in California Lane in 2018 and have been making, running sewing classes and meeting wonderful locals in my little shop ever since. 
 
How would you describe the Valley community you've become a part of?
The Valley has always been a hub for misfits and makers! It's home to such a diverse community of small businesses. There's a real 'can do' spirit about the place. 
 
Your friend is visiting Brisbane, where do you take them in the Valley?
Of course, I'm a little biased, but The Lanes are such a great starting point. You've got independent shops like Nug General Store, cafes like Reverends and lunch at Fat Dumpling, then of course bars like Queens and Uh Oh! 
What does your ideal day out in the Valley look like?
A day out in the Valley must include some element of treasure hunting. The suburb is ever evolving, there's always a new bakery or cafe to discover. So, I think a coffee and cookie at Brooki Bakehouse followed by a big ol' stroll around the Valley. Perhaps a stop in at IMA to see what's on.
 
Favourite shops in the Valley?
Leaning into the big mix that is the Valley, I love treasure hunting at Red Cross in McWhirters and Montys on Wickham St, and checking out Oxlades Art Supplies up the road. Love a little visit to LJC on Ann St, and then of course you've gotta end up at Nug in Bakery Lane! 
 
Favourite spot, whether it's breakfast, a bar or somewhere to grab a bite to eat in the Valley?
After four years in this vibrant suburb, I'm so ashamed that my favourite spots are the closest to the shop. LOVE the wine range at Queens, LOVE the beer range at Bloodhound. Great vibes at both, too! 
 
What will you miss about the Valley the most?
I'll miss my laneway family the most! Followed closely by the Banh Mi at the Central Brunswick Bakery, they're just too good. I'll be back to teach sewing at Giardinetto on the first Monday of each month, so I'll love getting to catch up on the evolution of the Valley.
- July 2022