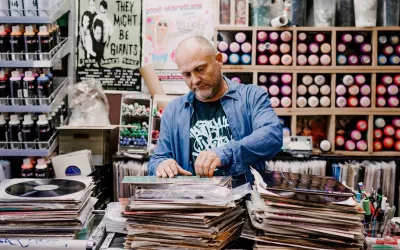 Butter Beats Record Store
A Queensland institution, Butter Beats is the complete embodiment of Fortitude Valley – music, culture and art.
Owner Jason Dax Woodward is an internationally recognised aerosol artist who is passionate about the local music scene and discovering the best music, new and old, to share with his customers.
Butter Beats specialises in rare and collectable records with a strong focus on Australian music and offers Queensland's largest range of street art supplies to established artists.
Website butterbeatsrecordstore.com
Facebook butter.beats.54
Instagram @butterbeatsrecordstore
General Enquiries email info@butterbeatsrecordstore.com
Contact  07 3257 3257
Address  Unit 11, 8 Duncan Street, Fortuneland Centre, Chinatown Mall, Fortitude Valley Qld 4006